Dear Schneider Weisse friend,
after the grand release of TAPX Mein Nelson Sauvin in September, there is more good news for all Schneider Weisse friends and all beer gourmets this month. The "Schneider Weisse Genießerkiste" is sold in selected beverage stores in Germany again now!
Furthermore, we recommend you a meal perfect for the beginning of autumn in this post for gourmets. Spicy chicken breasts with Schneider Weisse TAP5 Meine Hopfenweisse is just perfect during this cold season!
Have fun and enjoy.

Your Schneider Weisse-Team
Topics

 

› News

» Schneider Weisse Genießerkiste


  › Recipe

» Spicy chicken breasts

  › Wheat beer of the month

» TAP5 Meine Hopfenweisse

  Schneider Weisse Genießerkiste - Schneider's complete variety of products




Wheat beer specialties with beer tasting guide are now in Bavarian beverage stores

From October 2012, beer experts and those, who want to become beer experts, can buy the new Genießerkiste of Schneider Weisse in Bavarian beverage stores.

This mixed crate of beer, which is now only available in limited edition, contains the complete Schneider Weisse assortment of wheat beer specialties. Have your individual beer tasting session at home with your family and friends! Thanks to the included beer tasting guide, you can experience beer like a professional. Along with creating this beer tasting guide, the Schneider Weisse beer sommeliers pass on their expert knowledge to all beer gourmets who are interested in learning more about the diverse aromas of wheat beer.

Specialized retailers enthusiastically welcomed this crate: "Schneider Weisse is again a trendsetter who not only releases great products but gives also an innovative pulse onto the market. This is something that we really want to support", explains Walter Orterer, owner of the Orterer beverage store chain.

The "Genießerkiste" is in stores from the beginning of October in Bavaria, predominantly in Munich and Kelheim, Schneider Weisse's main places of activity.

The Genießerkiste contains the following wheat beer specialties:

| | |
| --- | --- |
| Three 0,5-l-bottles each | Two  0,5-l-bottles each |
| TAP1 Meine blonde Weisse | TAP2 Mein Kristall |
| TAP3 Mein Alkoholfreies | TAP4 Mein Grünes |
| TAP7 Unser Original | TAP5 Meine Hopfenweisse |
| TAP11 Unsere leichte Weisse | TAP6 Unser Aventinus |

To be able to savor all wheat beer specialties like a professional, the Genießerkiste includes a tasting sheet on top of the crate and a tasting guide to conduct your very own wheat beer degustation. Moreover, all bottles included in the Genießerkiste are printed on the backside of the crate to give you an overview.

The beer tasting guide provides curious wheat beer lovers with a detailed introduction, sensory tips to describe and taste beer and an individual evaluation chart. This all helps you to fully grasp your personal impressions during your beer tasting.

Concrete stores selling the Schneider Weisse Genießerkiste can be found on you website at www.schneider-weisse.de


Cheers!
Spicy chicken breasts with fruity curry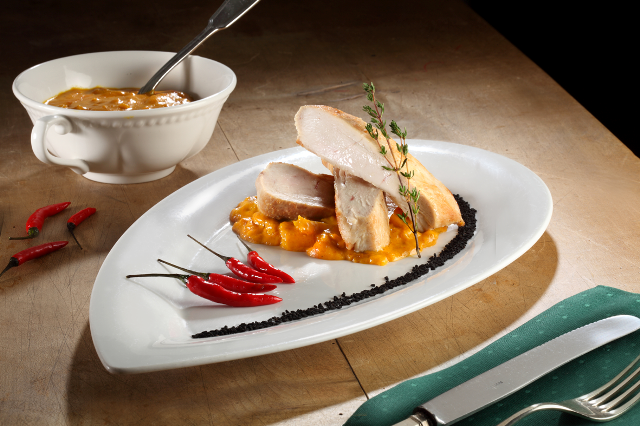 Ingredients for 4 persons:

Half an onion

1/4 l TAP5 Meine Hopfenweisse

1 small banana

Half a  mango

Half a baby pineapple

Yellow curry powder

200 ml cream

200 ml chicken broth

4 chicken breast filets with skin

Half a red chili pepper

Sautée the onions, deglaze them with TAP5 Meine Hopfenweisse and cook it until half of the liquid has vaporized. Add curry powder, the chili pepper and half of the fruits. Let everything cook for a bit. Pour in the broth and the cream. Purée the sauce, add salt and pepper to taste and then add in the rest of the fruits. Sear the chicken breasts with their skin upside down. Heat your oven to 120°C and put it on air circulation. Then, let the chicken breasts bake for 20 minutes. This dish pairs wonderfully with wild rice.

"This extravagant beer needs a strong partner like the spicy chicken curry. The fruits repeat the original wheat beer aroma and complete this treat. TAP5 Meine Hopfenweisse makes this chicken curry my latest favorite dish."

The favorite dish of Georg VI. Schneider

Enjoy your meal!
  Wheat beer of the month: TAP5 Meine Hopfenweisse

A hoppy firework – a whole new wheat beer experience

A golden wheat beer with reddish shimmer. The distinctively flowery scent reminds you of tropical fruit such as pineapple. The dominant bitterness then makes way for a fruity kind of sweetness. This really extreme wheat beer shows how far wheat beer flavor can go and pairs extraordinarily well with spicy and exotic dishes.

Food recommendations: minced meat seasoned with chili on skewers, spicy goat cheese, hot and spicily marinated spare ribs, zucchini chutney with tortilla chips

Pale wheat doppelbock

Alcohol: 8,2 %,

Original gravity: 18,5 %